Why Choose House Of Rain Chains
At House Of Rain Chains Miami, FL, our sole mission is to create & innovate new ways to turn your gutters & Downspouts into a thing of Beauty. By adding our Decorative Rain Chains Miami, FL, the curb appeal of your Residential or Commercial property is instantly enhanced and is guaranteed to have the neighborhood talking. With different Styles, Colors & lengths our Rain Chains Miami, FL are built using only but the best materials proven to stand up against even the toughest conditions.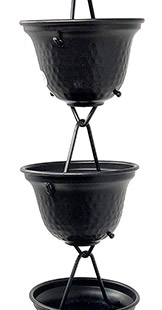 Rain Chains Miami, FL
If you want to add a uniqueness to your home, you can do so with a Rain Chain in Miami, FL. These Rain Chain in Miami, FL replace your traditional downspout. Modern Rain Chains that are sold in Miami are usually made from several materials and can be designed in any style, size, and color. The House of Rain Chains in Miami, FL sells several styles of rain chains that are hugely popular. Our most popularly chosen ones are; Copper Cups Miami, FL, Aluminum Cups Miami, FL, Stainless Cups in Miami, FL and Galvanized Cups Miami, FL. Copper Cups are a great choice because over time, as they age, they become prettier.
While Copper Cups is a favorite, we also offer Aluminum Rain Chains for Sale in Miami, FL. These gorgeous Aluminum Rain Chains have been treated to ensure durability. You can choose from a wide selection of colors as well. All installations are done by our trained and licensed Miami Rain Chain technicians.
Protect Your Home and Enjoy the Sound of Beautiful, Custom Rain Chains in Miami, FL
Once you have the Best Rain Chain in place, you can watch as the water flow down it to create a beautiful work of water art. It is important to work with our professional Rain Chain Installers in Miami, FL to make sure your Custom Rain Chain is the appropriate size. The more water you need to drain, the larger the cup you may need and the larger the chain. Need help picking out the Best Rain Chain for your Miami, FL home or commercial property?
Contact the House of Rain Chains today (305) 988-6330 for a FREE ESTIMATE!